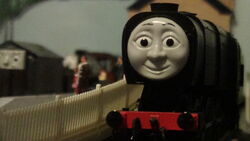 Neville
Number: 33010
Class: SR Bulleid Q1
Designer: Oliver Bulleid
Builder: SR Brighton Works
Built: 1942
Configuration: 0-6-0
Neville is a black tender engine.
Bio
Neville was built in 1942 and was used in WW2 to take passengers all over the UK. He later survived into BR days taking coal trucks, and in 1964 he was withdrawn and saved from scrap by two women called Abby and Audrey who would later become his driver and firewoman for years to come.
The Fat Controller brought Neville to help out on the mainline and on his first day 'Arry and Bert made fun of how silly of a steam engine he is. Thomas thought that Neville was laughing with the diesels and so told the other engines about it.
One day Neville had took a goods to the docks and then had to take cattle trucks full of sheep which Neville was afraid of, when he came to a station the
Persona
Neville is kind, friendly and stands no nonsense. He had a deep fear of Sheep and other animals which can make him quite uneasy.
Ad blocker interference detected!
Wikia is a free-to-use site that makes money from advertising. We have a modified experience for viewers using ad blockers

Wikia is not accessible if you've made further modifications. Remove the custom ad blocker rule(s) and the page will load as expected.