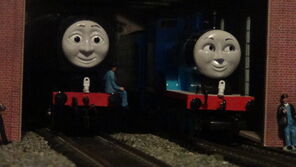 Edward is the No 2 mixed-traffic blue engine on the NWR and is one of the oldest engines there. He currently runs his own branchline with BoCo, Derek and the two twins Bill & Ben.
Bio
Edward was built in 1896 by the Sharp, Stewart and Co, He worked on the Furness Railway until 1915 when he was bought to finish up the work on Sodor after that Edward was sent to sheds much to the delight of the bigger engines thinking that he could be far too weak to work again, In 1920 Edward was soon let out once more and proved what lacked in strength made up for the work.
He told a sulky green diesel a few words at the sheds and when he had an accident Edward was sent to take him back to other railway then the diesel apologized and said when he became more responsible he could come back. To this day Edward still looks forward to the day for his return.
Edward later shunted Henry when his firebars collapsed.
Persona
Edward is kind, friendly, wise and very polite, He can also be a bit of a mentor to the engines smaller then him. he can be slightly sensitive when the others tease him about being old and weak especially Gordon. Despite that Edward always stands up tall.
Ad blocker interference detected!
Wikia is a free-to-use site that makes money from advertising. We have a modified experience for viewers using ad blockers

Wikia is not accessible if you've made further modifications. Remove the custom ad blocker rule(s) and the page will load as expected.